Back in 1999, Chris Kukula and Pat Barry scored a two-bedroom Piedmont house (circa 1925) for only $360,000. That's about $520,000 after inflation.
"Cheap even back then," Kukula says.
Of course, there was a catch: It was a dump, a "derelict property," as the couple recall it now. But, at the time, it was the cheapest home in all of Piedmont. And as two self-employed people, they could hardly afford to say no.
The house and property would just need some fixing up over the next two decades or so. Since Kukula is a landscape architect and Barry a contractor, they were more than qualified for the job. Lucky break, that.
Recently, Houzz TV, a branch of Palo Alto-based design site Houzz, showed up to document the transformation of the Kukula/Barry backyard. It's an enormous property, nearly 3,000 square feet. But for over a decade it was a dusty, barren patch, inconveniently built on a hill that defied any simple garden design.
They've been toiling away since 2003, building a cottage, separating the land into tiers, and planting the whole thing. Planting alone has been going on for six years now, and it's still not finished.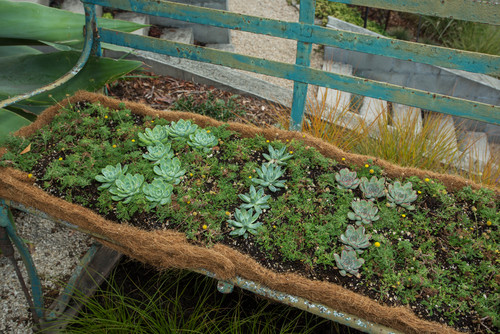 "The microclimate here is something else," Kukula tells Curbed SF. "One on half of the yard I have my neighbors redwood tree, with clay and deep shade, and the other half is good soil and a lot of sun."
Since the yard is also supposed to be a demo piece for clients, the two night-and-day halves had to be made to blend together in some way that makes sense. Natural selection is the harsh mistress that shapes the project.
"I watch which plants don't make it," says Kukula. "When something dies I think, good, I know not to do that again."
Take a look at the results of the metamorphosis, or watch the Houzz video for a more tangible sense of how it's all coming together.